I have a client that has a corporate google email account and is configured with IMAP in Outlook 2010. Some of them have a lot of emails and folders. Some are experiencing errors of syncing.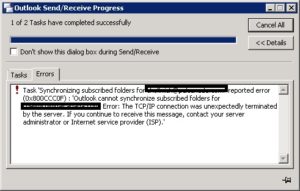 A lot have the syncing running a long time. I found this video that helps with the syncing. Basically I configured it to just download headers for all email rather than download all email. Some of them that kept getting error I created a new Outlook profile with a new cache .PST file.
Press CTRL-ALT-S to get to the Send/Receive Window. Select Edit for All Accounts. Under your IMAP email specify to just download headers for certain folders.